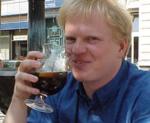 Congratulations!

You have finally made it to this homepage written nearly entirely in German... You are dealing with a German political scientist and historian living in Brussels, who mainly does CITYTOURS there. Beside that I have developped a COURSE "UNDERSTANDING BELGIUM" which tries to explain Belgian history, politics and society to German-speaking foreigners.

On top of that I manage from time to time to write ARTICLES over Belgium, which you can also find on these pages.

Beside all these German stuff, you might be interested in my LINKLIST to political science texts on Belgium which are online in full length. Among them you will find some written in English.

Finally you are cordially invited to have a look to my PRIVATE WEBSITE ...

See you next time!
.
GUIDED TOURS FOR GROUPS:
BOOK NOW!
The whole year you can book me for guided tours through Brussels for groups.
In English as well.
Contact me now:
info@woydt.be
Tel./Fax: 0032/2/216.24.99




PUBLICATION:
LA CONTRIBUTION DES LÄNDER AUX VILLES-ETATS?
In: ARAU: Bruxelles dans la Belgique post-fédérale? Bruxelles 2006, p.68-79.
Command it here for only 9,50 €!